WordPress Contact Form Spamfree without Premiumplugins
Matthias Schaller Updated:
Did you ever ask yourself: How do i create a free WordPress contact form without spam emails?
You have probably experienced this before: The moment you install a WordPress contact form you receive tons of spam emails.
Another issue lies in the fact that many anti spam solutions available like captchas frustrate users or confuse them.
Specially captchas on Ecommerce sites can greatly reduce the conversion rate.
Which is why contact forms should be as user friendly as possible.
There is many solution to this problem, but there is only one that truly free: Contact Form 7 Honeypots
Contact Form 7 and the so called "Honeypot Plugin" provide the perfect anti spam solution while causing no additonal hassle or confusion for your users.
The issue with Honeypots though is the fact that spam bots have gotten much smarter over time and can now outsmart your honeypots. Unless you modify them.
The first test on my own website confirmed my theory. I received less spam, but a big portion of it still got through my anti spam measures.
I was able to bring down the spam to zero after i made a few modifikations in my configuration. (Be aware: Spam from humans will still be able to get through. This kind of spam is relatively rare though.)
How to create a spam free wordpress contact form
1. Install the Contact Form 7 plugin
2. Install the Honeypot Plugin
3. Create a contact form and add the honeypot field after your name field. I have chosen this spot on purpose, to trick the bot into believing that the honeypot field is the "surname" field.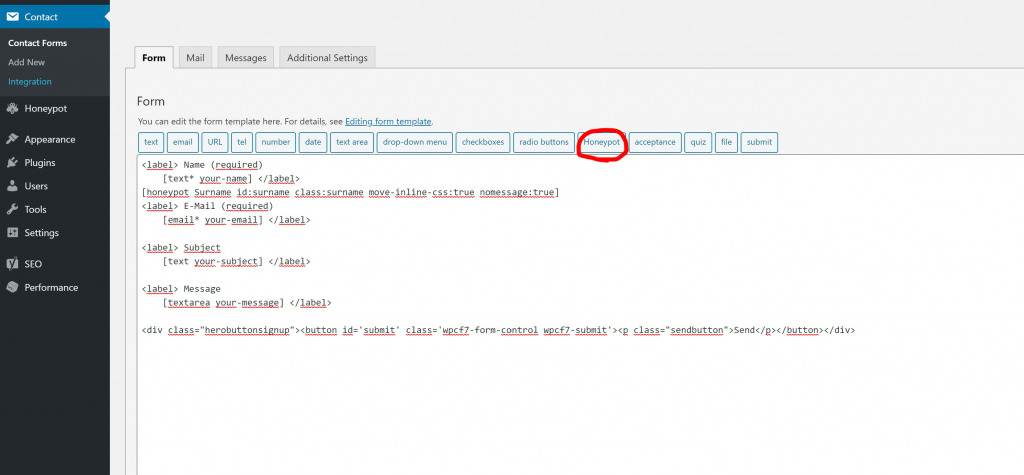 4. Modify the configuration to confuse the spam bots. Change the Name aswell as the ID and class: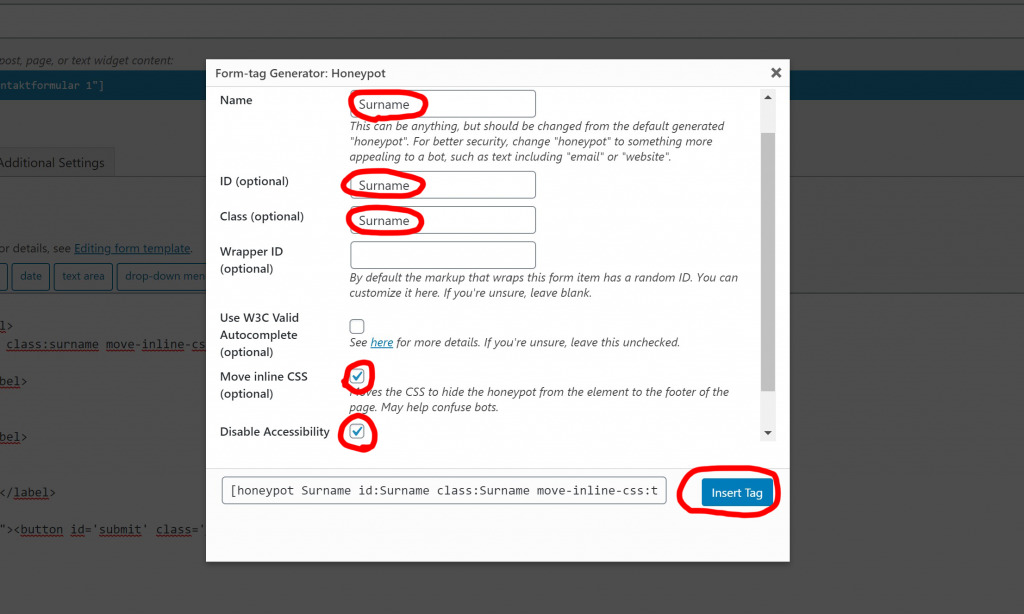 5. Move the CSS inline code and deactivate the Accessibility label if possible. You can deactivate the barrier-free label option if you are building a barrier free website website.
Bonus Tip:
I advice you to repeat the above steps if you still receive spam from bots.
This time you should add multiple honeypot fields to your contact form.
This way bots looking for Honeypots are not able to figure out which of the fields are honeypot fields.